Slack is a collaboration hub that enables real-time communications and connections in a searchable platform for real-time messaging, content sharing, learning, and more.
To learn more about using Slack at USC, visit Trojan Learn, and search for "Slack" to watch a few short videos about basic functionality. The following subjects are covered:
Introduction to Slack
Find and Start Conversations
Working in the Right Place
Focusing on What Matters in Slack
Tips and Tricks
Frequently Asked Questions
What is Slack?
Slack is a central collaboration hub for faculty and staff. Faculty and staff can easily collaborate on projects, committees, administration and other topics. Staff can make operational communication even more effective by avoiding lengthy and complicated email chains. Ultimately, this real-time solution makes working together even simpler. Learn More
How do I download the Slack app?
How does Slack enable collaboration?
Slack supports messaging, file sharing, and integration with other apps. It brings threads of communication and files into one place, where they're instantly searchable and available wherever you go.
How does Slack work?
Check out this Slack demo to see how the app can be used to support teams, departments and organizations like USC. You may also reference our quick reference guides which highlight key features of the app.
What is the difference between Slack and other platforms?
Review this matrix to compare the features of Slack with other platforms.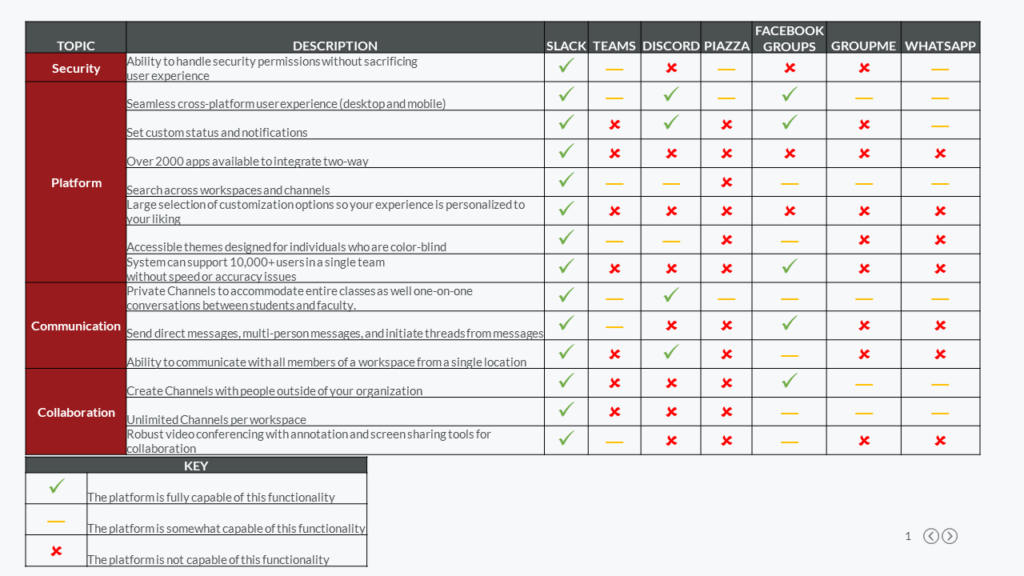 What is a workspace?
A workspace is a separate instance of Slack that sits under the USC Enterprise Grid. A workspace has its own administrators and permission settings, and its own members, channels, and apps to enable a large group of people to collaborate long term.
What is a channel?
A channel is a context-based conversation where groups of people can communicate, and interact with information related to a common topic (e.g., project). These can be public or private, and can be within a single workspace or shared across multiple workspaces (i.e. organization channels like #its-announcements).
Who can use USC Slack Enterprise?
Slack is available to active faculty and staff as well as active affiliates. Slack will also be available to students in the near future.
What if I have a Slack Workspace?
If you are the owner of a Slack workspace that you would like to migrate into the USC Slack Enterprise, please submit a request to consult@usc.edu. The plan is to migrate all existing workspaces under the larger enterprise grid to enable greater collaboration amongst our faculty and staff.
How can I join the Trojan Talk workspace that is open to everyone at USC?
All active faculty and staff have access to the Trojan Talk workspace. To join the Trojan Talk workspace, go to https://usc.enterprise.slack.com and click on the View Details button under Trojan Talk. Then click on the green Join and Launch Slack button. Once you are in TrojanTalk you will see a variety of channels you can join in the left column. The Welcome channel provides tips on how to get started with Slack.
How do I set up a new workspace or channel?
Faculty and staff should contact their school or unit IT support department to request a new workspace or a channel within an existing school or unit workspace. Contact information for school and unit IT departments is found at https://itservices.usc.edu/contact/school-list/.
For other Slack requests, please email consult@usc.edu.
Are there any USC Policies around the use of slack?
Use of Slack is governed by USC's polices including those found at:
Where can I learn how to use Slack?
Quick reference guides for using Slack are found here.
Video training is available on Trojan Learn, https://trojanlearn.usc.edu. Type "Slack" in the search bar to find the content.
You can find answers to most Slack questions in Slack's help site at https://slack.com/help
Can I update my Slack profile and photo?
How are security provisions managed in Slack?
All faculty and staff authenticate through Shibboleth to access Slack.
Is Slack FERPA compliant?
Is Slack HIPAA compliant?
Where can I get additional support?
For all questions and issues regarding using Slack at USC, please contact ITS Support.
Additional training resources, documentation and training videos for faculty can be found here.
Additional training resources, documentation and training for students can be found here.