Learn how to use Zoom enabled classrooms, in person instruction, while on campus.
Learning Environment for In-Person Instruction
This document provides step-by-step guidance on using Zoom-equipped classrooms for in-person instruction.
System Activation
While teaching an in-person course on campus, you must bring your own device with the Zoom application downloaded and installed. Laptops are recommended for best results.
The system should be on when you enter the classroom.
If the system is not on, it will turn on as you approach the teaching station.
If you do not wish to use the system, select the up arrow on the right of the touch panel. The screen will retract, and the projector will stop displaying.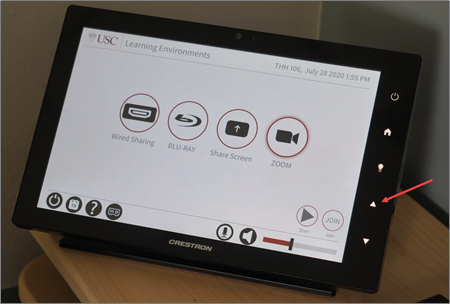 Sharing Content With The Projector Screen
To display class content on the projector screen, launch the Zoom app.

Tap "Share Screen."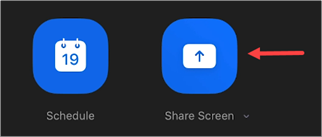 A pop-up will appear and request a sharing key or meeting ID. To share wirelessly, enter the sharing key displayed on the upper-right hand corner of the projector screen.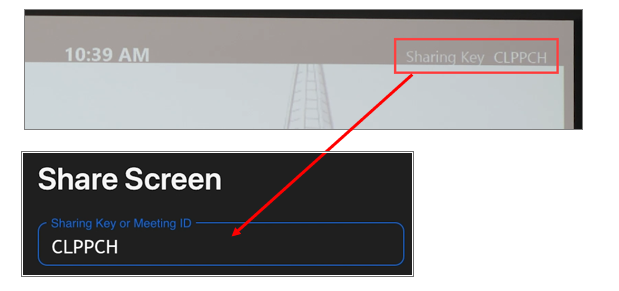 If you prefer not to share wirelessly, plug the appropriate cable at the teaching station into your device. If you are sharing a video with audio, we recommend using the provided cable to ensure that audio and video are synced.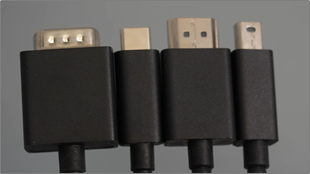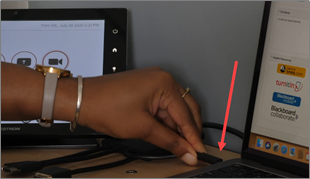 Using the Blu-Ray Player
Load your disk into the Blu-Ray player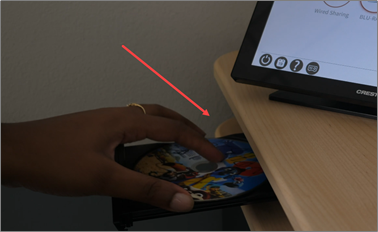 To share content from a Blu-Ray disc, select the Blu-Ray icon on the touch panel.

The Blu-Ray controls will appear on the touch panel. Tap Play to view the content on the disc.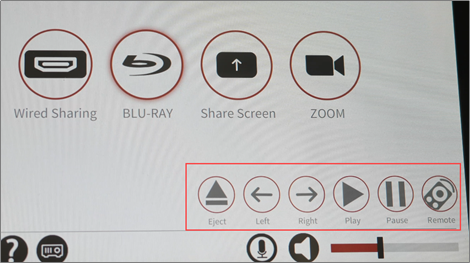 Ending Class
Once done with your class, simply unplug and pack up your laptop or other equipment, as necessary.
The room will automatically shut off when not in use.
Reserving Zoom Rooms
If you would like to reserve a Zoom room, for instruction, please email spaces@usc.edu.