Learn how to use Zoom enabled classrooms, for hybrid instruction, while on campus.
Learning Environment for Hybrid Instruction
This document provides step-by-step guidance on using Zoom Rooms for hybrid instruction. Each room is equipped with a microphone, speakers, and camera. The microphone only captures audio for students on the far end of the Zoom call. If you would like a microphone for the class itself, contact Learning Environments. For additional help and resources, please visit https://www.usc.edu/spaces.
System Activation
While teaching a hybrid course on campus, you must bring your own device to the classroom with the Zoom application downloaded and installed. Laptops are recommended for best results.
All system equipment should be on when you enter the classroom. If the system is not on, it will turn on as you approach the teaching station.
If you do not wish to use the system, select the up arrow on the right of the touch panel to retract the screen and turn off the projector display.
Set-Up Laptop and Start Zoom
Open your laptop at the teaching station.
Log in to your learning management system (Blackboard, Canvass, etc.) In this example, we use Blackboard.
In Blackboard, click your course link.

In the left-hand panel of your course in Blackboard, click the link for Zoom meetings.

On the Upcoming Meetings tab, find the Zoom link for your scheduled class.

Write down the Meeting ID number. You will need this for a later step.
Click the Zoom link that contains your scheduled class.

Click "Open zoom.us."

Click "Join with Computer Audio." The Zoom app launches, and class begins.

Once the Zoom app launches, the class begins. Mute your laptop's audio and video.

You need to add the classroom itself to the Zoom session for the hybrid setup to work. Tap Zoom on the touch panel.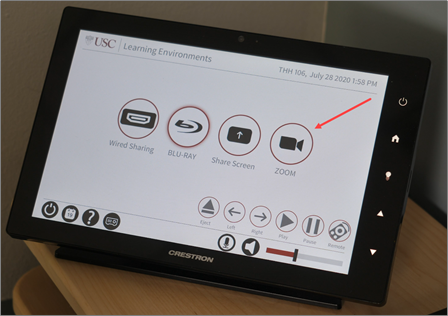 On the left side of the screen, select Join.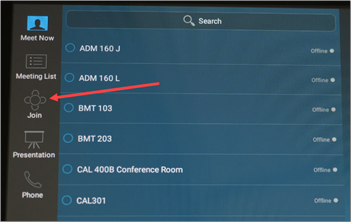 Enter the meeting ID of your Zoom session. This ID was displayed in Blackboard under the Zoom link.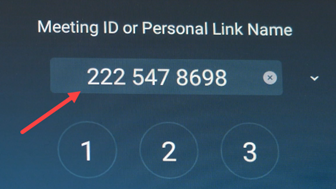 Tap Join.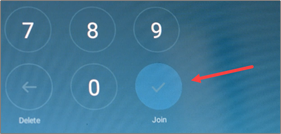 Once you have joined the session, promote the room to co-host on your device. Under participants, select More > Make Co-host.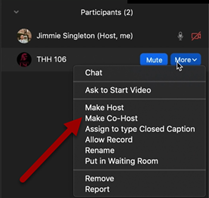 Tap Make Co-Host. The start-up steps are complete.
Sharing Content with the Projector Screen – Wireless
To display your content on the projector screen, tap Share Screen on the bar at the bottom of your computer screen.

Double-click to select the screen you wish to share.
Sharing Content with the Projector Screen – Wired
If you prefer not to share wirelessly, plug the cable at the teaching station into your device. The system will automatically display content on both the projector screen and Zoom call.
Reserving Zoom Rooms
If you would like to reserve a Zoom room, for instruction, please email spaces@usc.edu.