Respondus LockDown Browser is a locked browser that prevents you from accessing other applications on your computer while taking tests in Blackboard. You must download the browser before taking a test that requires it. Only download from the link provided.
Overview Video
Quick Reference Documents
Install Respondus LockDown Browser
Open an internet browser. (Google Chrome/Firefox recommended).
Go to the following website:
https://download.respondus.com/lockdown/download.php?id=945755274
Click and follow the instructions on the screen.
Take a Test with Respondus LockDown Monitor
Close all programs unless one is used specifically to connect to the Internet.
Launch the Respondus Lockdown Browser:

Windows: Locate the LockDown Browser icon on your desktop and double-click.
Mac: Launch LockDown Browser from the Applications folder.

If prompted to choose a server, select the option with "Blackboard."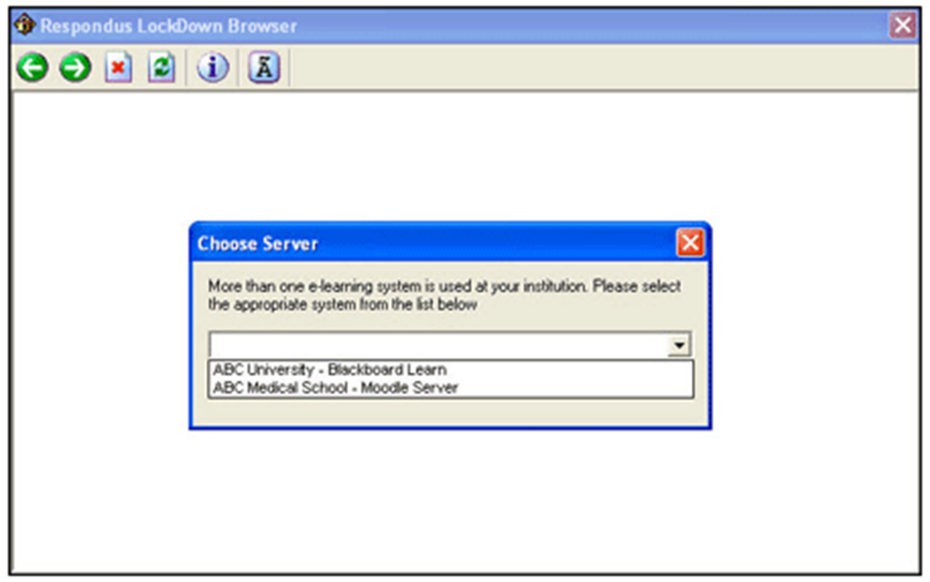 If prompted to close a blocked program (e.g., screen capture or instant messaging):

Click Yes.
Or, close Respondus LockDown Browser to close the blocked program, and then restart Respondus LockDown Browser.

Login to your Blackboard
The Respondus Monitor Startup Sequence will begin. Review and agree to the Terms of Use.
The Webcam Check will confirm that your webcam and microphone are working properly. The first time the Webcam Check is performed on a computer, Adobe Flash Player will require you to select Allow and Remember.
The remaining steps of the Startup Sequence will depend on settings chosen by your instructor.

Follow the instructions and note your progress along the top of the screen.
If you encounter a problem, select the It's not working link for troubleshooting tips.

The test will begin after the Startup Sequence is complete.
If the instructor requires a test password, a new window will appear asking for the Exam Password. Enter the password and click Begin Exam.
The test will then start. Once a test has been started with Respondus LockDown Browser, you cannot exit until you complete the test by clicking Submit.