Before Class
Log Into Blackboard
Learn how to securely log into Blackboard
Open an internet browser. (Google Chrome/Firefox recommended).
Go to the following website: blackboard.usc.edu
Click Sign in using your USC NetID.
If prompted, input your USC netID and password, and then slick Sign in. You should now be logged into Blackboard.
Student Access to Zoom from Blackboard
It is strongly recommended that you use a computer to access Blackboard and Zoom meetings for online classes. Using a phone is not recommended.
Install Zoom
To use Zoom with Blackboard, you must have the Zoom app installed on your computer.
In your web browser, go to: https://zoom.us/support/download
A file called ZoomInstaller.exe will automatically download to your computer. Most end users will see the file appear in the bottom left-hand corner of the screen. Click the filename to begin the installation.

A Zoom Meetings window appears when the installation is complete. Click Sign In.
Click Sign In with SSO.
Input "usc" in the Company Domain field.

Click Continue.
Click Open Zoom Meetings.
The Zoom app installation is complete.
Join a Zoom Meeting from Blackboard
Log into Blackboard to access a scheduled Zoom meeting. It is recommended that you access Blackboard and Zoom at least 5 minutes before the course is scheduled to begin.
Ensure that your headset is plugged into your computer and the volume is not muted.
Log into Blackboard.
Navigate to your course under My Courses.
In the menu on the left-hand side of the screen, click the link that contains the word "Zoom."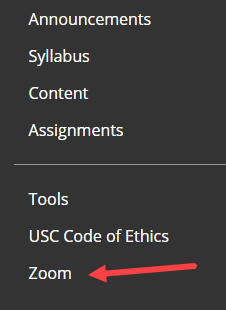 In the Upcoming Meetings tab, locate the course session that you wish to join.
Click . A new browser window will open.
Click
The Zoom app will launch.

If the meeting has started, you will automatically enter the online session.
If the meeting has not yet started, you will see a pop-up window with the message "Please wait for the host to start this meeting."

One the meeting begins, ensure that your microphone is on mute.
Once you are in the meeting, your name will be displayed in the participants list, and you may use chat, screen sharing, and other features
To leave the meeting, click Leave Meeting.
During Class
Navigating
Global Navigation and My Blackboard
Global Navigation and My Blackboard
Missing Current Semester Course
USC automatically creates a Blackboard course for every course that is listed in the Schedule of Classes (www.usc.edu/soc) as having an assigned instructor, assistant lecturer, or teaching assistant. However, your instructor must manually make his or her course available to students before the course will appear on your My Courses list on Blackboard.
To verify that you are enrolled in a particular current semester course, login to my.usc.edu. If a course appears on your schedule in my.usc.edu but not on Blackboard, please contact the course's instructor in class, via email, or via telephone (you can find a searchable version of the campus' Faculty, Staff, and Affiliate directory at
https://my.usc.edu/wp/faculty/SearchForm.do
to inquire if your instructor plans to use Blackboard this semester.
Access Previous Semester Courses
Information Technology Services automatically disables student access to completed Blackboard courses approximately eight weeks after the last day of classes. Student access to spring semester courses is disabled on July 1. Student access to summer semester courses is disabled on October 1. Student access to fall semester courses ends on February 1.
Once student access to a previous semester's Blackboard course has been disabled, the only person who can access that course or make its contents available to students again is the course's instructor.
To access course materials or individual grades on assignments from a previous semester's Blackboard course, please contact the course's instructor and request that he or she either
Email you a copy of the content you wish to access, or
Manually make his or her old Blackboard course available to the students again.
The quickest way to locate an instructor's email address or telephone number is to use USC's Faculty, Staff, and Affiliate Directory.
If you are unable to reach the instructor, please contact that instructor's department chair or curricular dean (see https://academics.usc.edu/).
Finding Course Files and Assignments
Locate Content using the Course Map
Assignments, Discussion and Grades
Interacting in Discussion Forums
Taking a Test in Blackboard
After Class
How Students Access Recordings From Blackboard
How Students Access Recordings From Blackboard